My favorite holiday is flying to the Canary Islands with a suitcase full of books, reading a lot by the pool during the day, and watching local bands performing in the pubs at night. This year I did it differently. With the family we rented a house with pool for two weeks in the Costa Brava and I really loved it.
Now that I have a Kobo e-reader, it saves space and weight in my suitcase, but I still have a love for paperbacks. I like to rummage through mini-libraries, and I always leave some paperbacks behind as well. In our house there were some books, but mainly thrillers. I have now supplemented it with a few feel-good books. Because we went by car, I could at least pack a lot and this time I also took my laptop with me on holiday. A good idea, because I also continued writing my own feel-good novel during the holidays.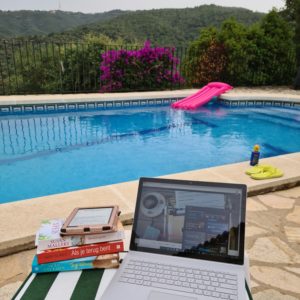 I read these books:
Tegenstroom – Jackie van Laren (Dutch author) ♥♥♥
I always enjoy reading Jackie van Laren's books and so is this one. The story is set on a Wadden Island. I missed the depth that I am used from other books by Jackie van Laren.
Als je terug bent – Abbi Glines (When you´re back) ♥♥♥
The few books I read from Abbi Glines felt like lovely guilty pleasures. Abbi Blines' writing style is smooth, the stories are predictable and nice and romantic with a hint of sex and you don't necessarily have to read in order. This book was disappointing, I thought the story had too many long-winded sex scenes.
Uitzicht op zee – Susan Mallery (Blackberry Island #2) ♥♥♥
This story is about three strong women who live in a street on a mountain. Our holiday home was also on a mountain, so I was in the right place to read. I thought this was a nice feel-good holiday book.
De kluts kwijt – Vannessa Thuyns (Dutch author)
I had to get used to the writing style that is smooth and simple with mainly discussions and actions of the characters. This was not visual enough for me. The story, tension and speed were the reason I wanted to keep reading, because the story was good